Find us at the corner of Oak & 9th in Holdenville, Oklahoma.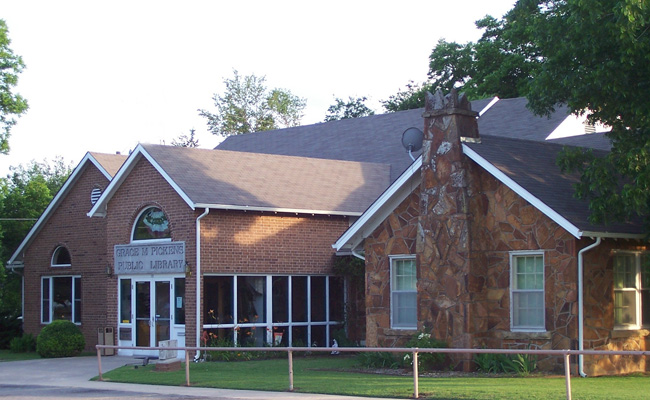 Our History
Sponsored by the Business and Professional Women's Club, opened on September 27, 1929.The library board, with Mrs. Dudley B. Buell as president, appointed Mrs. Anne Sturdevant librarian. It also obtained the assistance of the Oklahoma Library Commission in classifying the books and establishing a circulation system. Books, the first essentials, had been collected from the entire town, with other clubs and civic organization joining in the drive. The first 600 volumes, which rapidly became 800, were housed through the generosity of Judge and Mrs. Frank L. Warren, in two rooms on the second floor of an office building (the old domed bank building). In May 1930, the library expanded over the entire second floor of the Warren Building.
A New Building
In August 1934, the Holdenville Library had a new home at Ninth and Oak, on land that was donated by Judge And Mrs. Frank Warren. The structure is of native stone, built by WCA labor at a cost of about $7,500, of which Holdenville citizens contributed $2,500 for materials. The stand pipe water tower which was originally housed on the land was donated to the city of Atoka. The Native rock for the outside of the library was acquired from the old city water works which was located on the Long family land.
Among the many prominent Holdenville Citizens who contributed to the library's successful efforts to obtain a building the name of John Ed Davis a library board member was often heard of as that of the man to whom most credit was due. Mrs. Sturdevant resigned in 1936, after seven years of service, and Mrs. Florence S. Culver became librarian.
Our Next Chapter – Thank you T. Boone Pickens
In 1985 the small Library was suffering from growing pains, Funds were a necessity for the construction of an addition to the growing library. The Director Fran Cook wrote many grants. The Oklahoma Department of Libraries provided a matching grant. The funds of $62,000.00 were raised by the citizens of Holdenville by a drive headed by Mr. Veldo Brewer, and matched by Mr. T. Boone Pickens of Mesa Oil & BP Capital. The Library was then renamed in honor of Mr. Pickens' mother Grace Molonson Pickens.
Sarkeys Foundation, Gelvin Foundation, Kerr Foundation, Noble Foundation, Bill And Melinda Gates Foundation, Phillips Petroleum, Transok, Oklahoma Department Of Libraries, Cristina Foundation, Libri Foundation, Wal-Mart, Bank NA, Sonic Drive In, Cox Communication, Firstbook, T. Boone Pickens and many other foundations and civic clubs have donated to the library over the years.
Mr. T. Boone Pickens gave the library a trust fund of $20,000 for twenty years with the interest going to the library for books. At the end of the Twenty years the full amount remits to the library fund for the need of the institution.
Past Librarians
Mrs. Lloyd Thomas
Mrs. Paul Sturdevent
Miss Florence Shan Culver
Mrs. Lavon Bennett
Mrs. Ruth DeShields
Mrs. Jeanette Slaughter
Mrs. Debbie Thionnette
Mrs. Fran Cook
Current Librarian